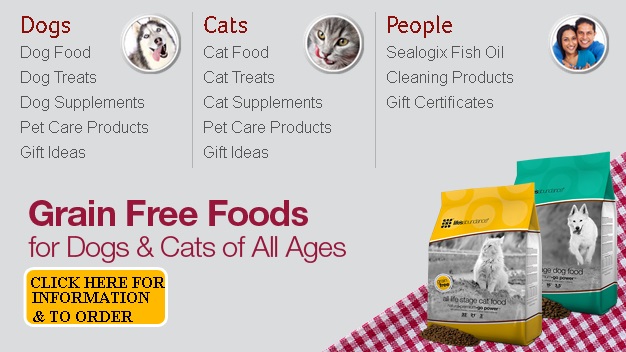 We feed our dogs Life's Abundance all natural dog food.
Life's Abundance Premium Health Food for Puppies AND Adults!!
Containing ONLY human grade ingredients!!! (So your dog may enjoy a longer, healthier life with your family.)
**We prefer and recommend Life's Abundance Premium Health Food For Pets**
Life's Abundance is available in dry or canned puppy/dog food, however we recommend feeding the dry dog food. Order your food from the link below, (Or you may call your Life's Abundance order in at 1-877-387-4564, but you will need to give them our Representative ID number, 40035554
Remember, it is best to order your Life's Abundance Dog Food "before" your puppy arrives home!
We recommend "Autoship" every 3/4 months, based on the weight of your puppy. In most cases, the shipping charge is $8.25 per order (excluding any non-food products). Therefore, you will save on shipping if you order a greater amount of food over a longer period of time. For example, instead of ordering a 20 lb. bag of dog food every month for we suggest two 40 lb. bags every 4 1/2 to 4 months (shipping charge of approximately $8.25 per order, NOT per bag). Plus if you use "Autoship", you will save an additional $7.30 per bag. So if your adult dog weighs 70 pounds, it will cost you approximately $37.42 a month to feed your dog the very finest premium dog food on the market today, or LESS! (Less if order more than one bag at a time, saving shipping charges.) We challenge you to find a healthier commercial dog food for less money! You won't, so why not just stick to what your puppy is already used to and doing wonderfully on? He/she will have one less thing to adjust to when he/she leaves our home to become a member of your family.

Life's Abundance Dog Food has convenient home delivery and you never have to worry about running out of food on their Autoship program! (There is no obligation to continue with the Autoship program, you may discontinue this service at anytime.